Claron produce four main types of polymer bearings for use in hydraulic cylinder applications. Each has a varying set of properties to cover a wide range of applications. The following tables are designed to help select the correct type for a given application.
Table 1
shows the properties for each type of bearing. Values shown as low/high should be interpreted as relative to each other.
Table 2
shows a summary of recommended uses.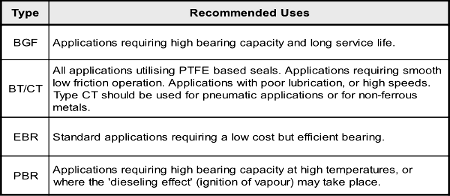 To calculate the maximum allowable bearing load in Newtons for a Claron bearing ring used in standard hydraulic cylinder applications, multiply the projected area by the load capacity as follows :
1) To calculate the projected area multipy the ID of the bearing by its width :
Projected area= ID(mm) x W(mm)
2) Multiply the projected area by the load capacity taken from figure 2 for the required maximum operating temperature.
Bearing Load = Projected Area x Load capacity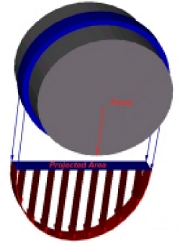 Figure 1 shows that the load distribution is not even along the projected area, this however has already been taken into account in the calculation of load capacity in figure 2.

For unlubricated applications Claron recommends the use of Carbon bearing tape CT. See section E2.